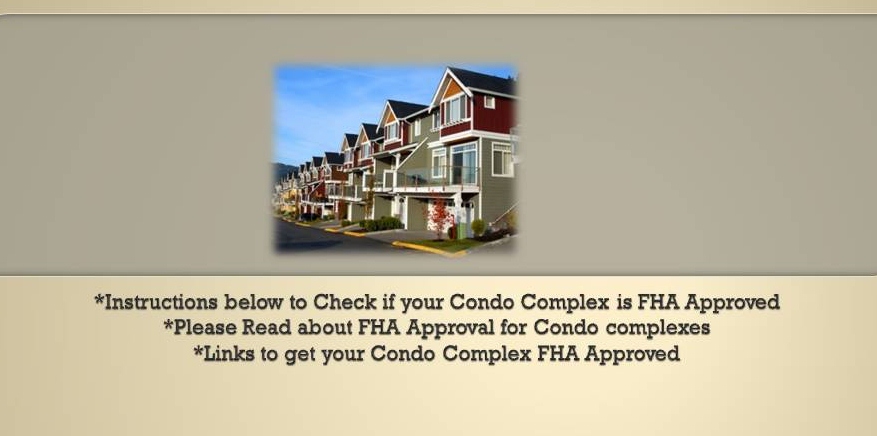 Many condos do not have FHA approval status. They may qualify for FHA approval, but many did not see the need to obtain the approval in the past. To check the approval status of your condo, or a condo complex you have interest in click below

Please Click Here to view the HUD website
Instructions below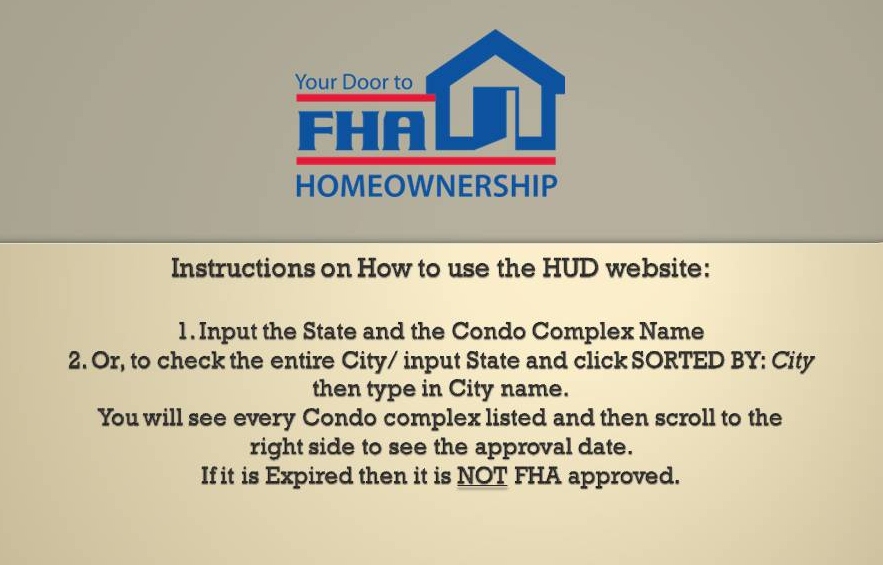 There are two main forms of mortgages that are used to purchase condos today. One type of loan is known as a Conventional Loan. Conventional Loans are issued by banks and conform to Fannie Mae (FNMA) and Freddie Mac (FHLMC) lending guidelines. The second type of loan is an FHA loan. FHA loans are also issued by banks, but the loans carry mortgage insurance from the Federal Housing Authority (FHA), a federal government agency in the Department of Housing and Urban Development (HUD). FHA loans used to be fairly rare, but in the real estate downturn, the ability to obtain an FHA loan has become a critical factor for many buyers when purchasing a condominium. If you live in a condominium and are thinking of selling in the next few years, it is critical that your condo association seeks FHA approval so that prospective buyers can use these loans for your condo.
How can my condo obtain FHA approval?
FHA does have a set of guidelines that a condo must meet before they can can obtain FHA approval. These guidelines deal with the percentage of renters/investors in the complex, financial status of the HOA, and reserve budgets for future repairs. Not all condos will receive approval, but many are eligible. The approval process involves submission of a variety of condo documents to FHA, including documents like condo declarations, association bylaws, association budgets and reserve studies.There was a major change to the FHA condo approval process on February 1, 2010. Prior to that date, a condo buyer could seek an FHA "spot approval", which was a one-off approval of a particular condo unit. The spot approval process was an efficient way to quickly obtain FHA approval. The process changed in February, and now FHA approval must be obtained for the entire condo complex.
My condo complex is not FHA approved. What should I do?
FHA approval for condos is critical for maintaining property values and being able to sell your condo complex to the widest pool of potential buyers. If your condo complex has not gone through the approval process, you should request that your HOA board members and management company spend time to go through the process and obtain approval. It can be helpful for the association to hire an FHA consultant who can guide them through the approval process.
If your condo complex does not qualify for FHA approval, you should become an active member of the association and suggest changes to the association budget or rules that will enable FHA approval in the future. Some of these changes may be financially painful for the association and current condo owners, but ultimately it will improve the long-term financial health of the condo association and help maintain property values.