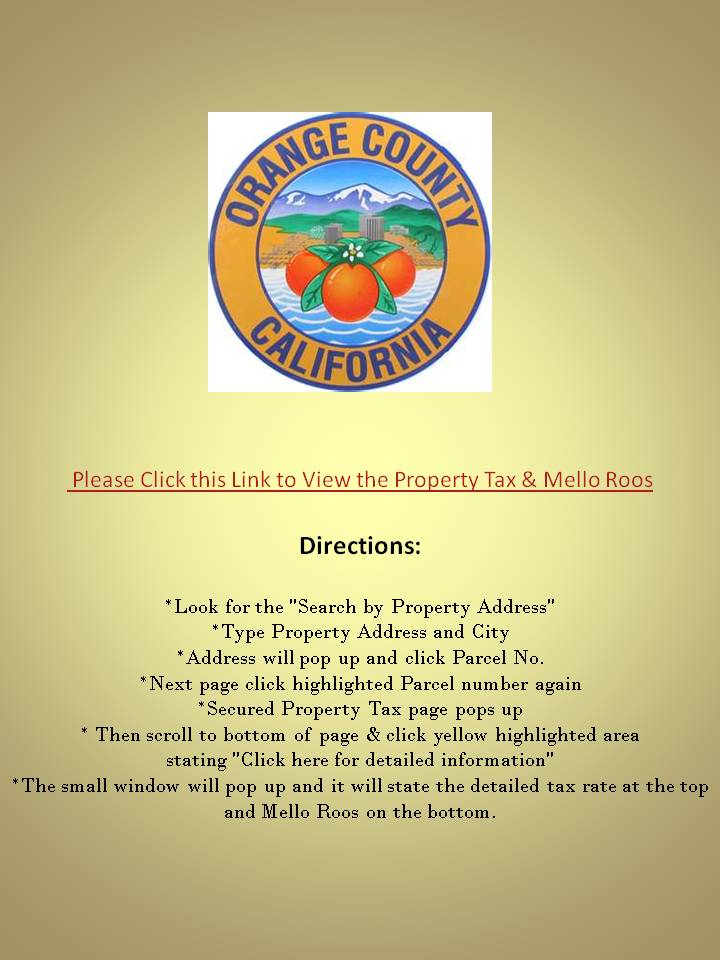 All homes have property taxes and many have an accompanying special assessments. Mello Roos taxes are additional encumbrances added to basic property taxes. Not all homes in Orange County have this additional Mello Roos tax. Usually only the newer areas where new schools, fire stations, libraries and such had to be built will have this addition property tax. There is no "standard calculation" for Mello Roos. One community may have very low Mello Roos, while the community across the street may have much higher Mello Roos, while another community bordering it has no Mello Roos at all.
A Mello Roos tax (bond) is a method of financing or underwriting the cost of public improvements or infrastructure such as utilities, roads, recreational facilities, schools, libraries, fire stations, etc. that are needed to support new development.
This method of financing came about in 1982 and was a direct result of the passage of Proposition 13 in 1978 in California, which limited the amount of revenue that could be raised to support new developments through traditional means. Only those new developments that choose to create a Community Facilities District impose this added tax burden on homeowners.
Bonds usually run for 20 to 40 years and are repaid by homeowners